Ubidots is a low-code IoT application development platform that enabled rapidly assembling and launching IoT applications without having to write code or hire a software development team. Nowadays, over 40,000+ applications already connect the dots with Ubidots. To meet the growing need for building IoT applications, we've been cooperating with Ubidots and supporting the community to add SenseCAP S210X sensors easily to Ubidots by using The Things Network LNS.  The Things Network is a global collaborative Internet of Things ecosystem that creates networks, devices, and solutions using LoRaWAN.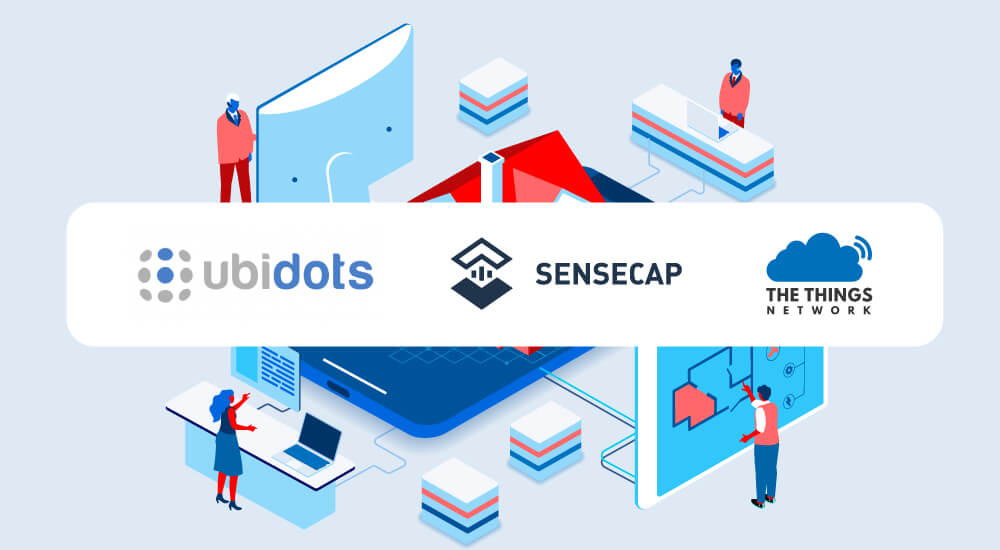 Now, let me show you how to add the LoRaWAN sensor to the Ubidots and start collecting data within 5 steps! Here, let's take our S2105 Soil Moisture, Temperature and EC Sensor as an example:
Step 2: Register Sensors on TTN LNS
Create an application, click on "+ Add end device" and enter the Device EUI, App EUI, App Key (refer to SenseCAP Mate APP).
Step 3:Create the Ubidots Plugin and Decoder
Go to your Ubidots account, click "Plugins" and create a new "The Things Stack" plugin.
Click on the recently created plugin, search for the "Decoder" tab and copy the "HTTPs Endpoint URL".
Step 4: Connect the Ubidots Plugin to TTN
Go to your TTN console, click on "+ Add webhook" and search for Ubidots.
( Plugin ID: It's from the "HTTPs Endpoint URL". If your endpoint's URL is "https://dataplugin.ubidots.com/api/web-hook/lN4s2dlb4IgPgpp4Xeoq02stXcE=" then your plugin ID is just "lN4s2dlb4IgPgpp4Xeoq02stXcE=" )
Step 5: Power on the Device and Start Monitoring
Now you can monitor the soil moisture temperature and EC data on the Ubidots platform!
You might want to monitor other parameters. Here at Seeed, we've developed a series of LoRaWAN sensors specifically focusing on environmental monitoring:
S2101 Air temperature and humidity sensor
S2103 CO2, temperature, and humidity Sensor
S2104 Soil moisture and temperature sensor
S2105 Soil moisture, temperature and EC sensor
With the IP66 enclosure that supports -40 ~ +85C °operating temperature, a built-in 19Ah high-capacity battery, and its low power consumption, the S210X sensors can operate in harsh outdoor environments for up to 10 years with a maximum of 10km coverage. The built-in Bluetooth facilitates setup has greatly reduced the cost of large-scale deployment so that you can deploy devices with easy set-up and receive data in minutes.
Furthermore, S210X sensors are fully compatible with the TTN network. As long as there is TTN coverage nearby, you can get started with sensor deployment instantly. And yes, they can also be used with any approved LoRaWAN gateway, including the SenseCAP M1 gateway! This blog post only shows the gist, you can click here to see the detailed guide.